4x20 Industrial Gang Charger for Standard Automotive, Deep-Cycle, AGM and Gel Cell batteries
$1,339.00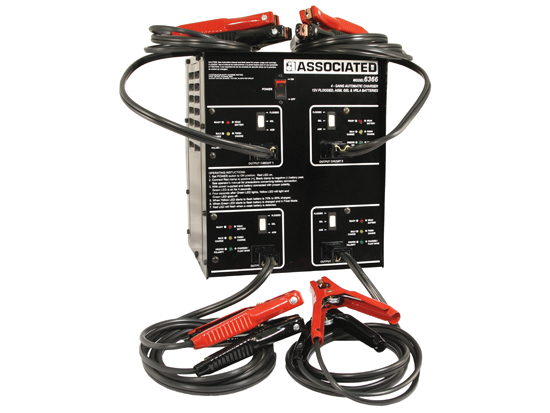 Click to view California Proposition 65 warning
This 4 channel Gang Charger can charge up to 4 batteries of different types at 20 Amps. Add or remove batteries as they finish charge. Intellamatic Processor automatically controls charging rate based on battery types. Made in USA.


Features
Four independent, Fully-Automatic charging channels that control voltage and current up to 20 Amps per circuit.
Four sets of LED indicators showing charging status by battery.
Four sets of detachable 6 foot leads with 300 Amp heavy duty clamps.
Charges all types of 12 volt batteries.
Designed for AGM, Gel Cell, Sealed, and Standard Flooded batteries €" including Spiral Cell, Orbital, or Optima batteries.
Patented diagnostics indicate weak or defective battery.
CSA Listed.
Made in USA.
Other Associated Equipment Corp. Products